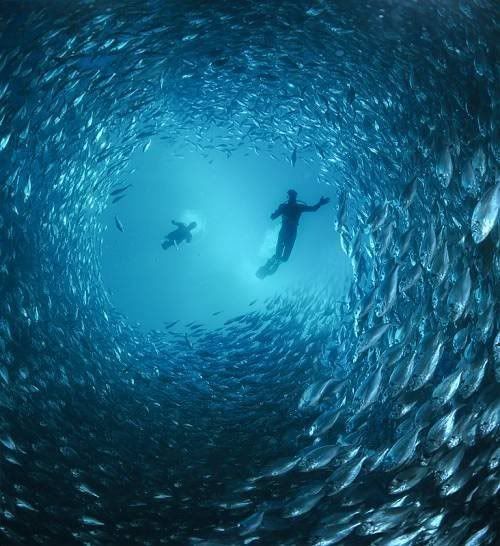 Is it just me? Or does anyone else relate to this picture when you think of the chaos that plagues the social media realm? Anyone else feel like a fish out of water? That you can't "learn & apply" fast enough? Sigh....well, then join the club.
Well, as of late, social media has been my job (you know the 24/7 job you can't escape?!?). Can I just say that I love my job! I truly do love the advertising industry...even despite the A.D.D. that I fear it's causing (can i get some Ritalin???) However, just the past few months I've jumped head first into the media mayhem that is Twitter, in addition to my many other "social-media" endeavors. I've recently learned of the TED conference, AdAge Digital Conference, SXSW Interactive Conference and now they are having a Twitter conference in May!!!

During a meeting with a social-media maven (Mike Dwyer) today I started jotting down all the places I dabble in the web 2.0 or 3.0 arena...Here's the ever growing list: Blogger (Obv), YouTube, Facebook, LinkedIn, SlideShare, Twitter (TweetBrain TweetDeck, Skimmer), StumbleUpon (becoming a new fave), DIGG, Skype, Delicious, Dopplr, WAYN, and 20Somethings Blogger. AH! No wonder I sometimes feel like a 6 year old in a toy store! There's so much fighting for my attention. So, instead of having an atomic melt down (like i'd sometimes like to) I'm choosing to focus on better understanding each of these services and give you my take (or an experts) on how to use each of them. Then, maybe i'll better be able to discern which ones are working for me and which are working against me!

Today's topic...LinkedIn, compliments of Mike Dwyer! Thanks! My opinion is that it has been a static resource in the past and has now become more agile due to the recession - people are treating it like a Monster.com or Careerbuilder. Recruiters are on it, unemployed too. Seems like a natural fit. But for those of us with jobs it can be a great tool for networking via the "groups" that relate to your personal or professional interests!

Let me know if you use this service and what you like or don't like about it!